Kachina-
female Border collie/1991-2007
Experience in film and awards: Town dog in the NBC Movie of the week – "Beyond the Prairie" – 1998
Special part in the CBS Mini Series – "Night Sins" – 1997
Family dog in Video West Production – "Family Times" – 1997
David Letterman Show try out in New York – soccer act- 1996
Reenactment in the weekly T.V. Show - "It's a Miracle"- 2004
Frisbee contest at the Great Salt Lake Beach Fest: Awards in 1994, 1995 & 1997- 1st place. 1996 2nd place and 1999 3rd place Dog Olympics in SLC, Utah, 5 gold medals – 1996
Art for Animals and Recycle Representative with Salt Lake Animal Services-1995-1997
Retired flyball dog champion
Volunteer to help on behalf of "No More Homeless Pets in Utah"
Maya-
female Border collie/born 1999
Experience in film and awards: Reenactment in the weekly T.V. Show – "It's a Miracle" – 2004
Volunteer for funds raised on behalf of "Intermountain Therapy Dogs" and "Intermountain Service Dogs" dogs golfed for charity - 2001
Frisbee contest: Award for second place in the "Skyhoundz" local championship – 2003
Maya practices and races with the flyball team, "Thunder Paws", received the title, "Flyball Dog Master" - 2004
Arrow-
male mix rescue dog/2002
-2013
Arrow was rescued by "No More Homeless Pets" Campaign/Best Friends. I adopted him from the rescue group, "Hope Haven", to help educate the public that rescue animals really need homes and that you can train and have a great family pet. Arrow has performed in many shows for events that are promoting adoption of shelter animals, etc…Arrow is also part of the flyball team, "Thunder Paws".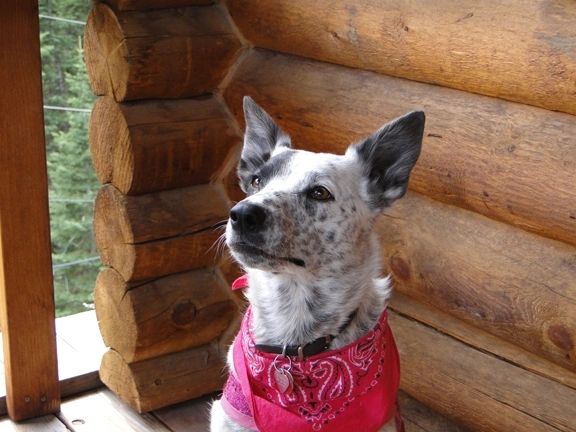 Apache-
female Australian Cattle Dog/born 2005
Apache is a rescue dog from Tender Hearts Rescue. When she was adopted is was unknown at the time that she was completed deaf as tests have revealed. Decision was made to keep and train her to perform with the Dazzle Dogzz. Handling things quite well with her handicap she is very athletic and intelligent. She also participates in flyball training and races in tournaments with the "Thunder Paws" flyball team.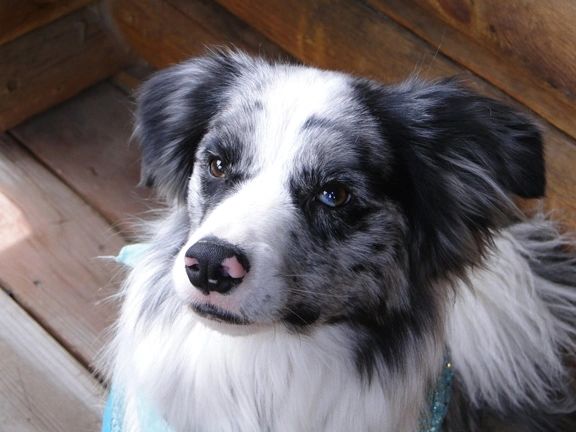 Sundance- Male Border Collie/ born 2010
Sundance is a pure bred blue mural border collie. He is a high energy, action packed dazzling dog! He is the newest member of our Dazzle Dogzz team and he will wow any audience with his amazing routines! Sundance is also an upcoming "Thunder Paws" Flyball team member.
Dianne Sharp-Roberg-I train my dogs using the clicker training method which is a very positive and motivational way to train animals. I work towards behaviors for performing stunts, tricks and frisbee. Prior to my interest in training and performing with my dogs, I trained as a dancer since three years old and after highschool starting teaching creative dance to children. I own and operate "Dance by Dee" Creative Dance Studio in West Jordan, Utah since 1988. I have found that teaching children to dance is very similar to training and working with the dogs to perform dance and Frisbee routines. I developed the "Dazzle Dogzz" in 1999 starting with my first border collie "Kachina". Maya, Arrow and Apache joined and we have been entertaining anywhere from small groups to very large venues.